StarFrench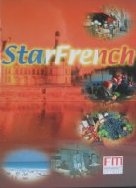 A program to help learn French. For all learners, up to the age of 16.
Features:
350 lists
native speakers
valuable activities
Requirements: Windows XP, Vista, Windows 7 and above
3500 French sentences, written, spoken, practised and played with. Pupils hear how French is spoken, compare pronunciation with a native speaker, see how sentences are sequenced and improve their vocabulary. Topic by topic they learn to use the words that matter. Click
here
to see all the lists and sentences. The demands of the syllabus are not neglected. StarFrench is designed to complement the AQA syllabus, AQA Syllabus information and will be valuable for those following other syllabi too. It is a most useful tool for the oral examination. StarFrench is a great classroom resource for students up to the age of 16. StarFrench has five activities for each sentence - Listen and record your own voice; Re-order the words within a sentence; Order the letters of a word; Guess the word; Spell a word. Age: 11 to 16 and Adult
New StarSpell Web App, FREE FOR EVERYONE for a limited time
We are providing this online version of StarSpell FREE OF CHARGE for everybody during this difficult period.
---
Network with Site-Licence
Software for network use on unlimited PCs in a single location
CD-ROM
£ 319.00 *
Buy »
*Excludes VAT and P&P
Standalone
Software for use on a single PC
CD-ROM
£ 95.00 *
Buy »
*Excludes VAT and P&P
Additional User
Software for standalone use on a single additional PC
Requires StarFrench Standalone
CD-ROM
£ 45.00 *
Buy »
*Excludes VAT
Student
Software for Student use on a single PC
CD-ROM
£ 72.00 *
Buy »
*Excludes P&P
Fisher-Marriott desktop products are standard Windows software that is installed using the Windows Installer in compliance with the Microsoft Windows logo guidelines. Like other compliant Windows software it can be uninstalled from the Windows control panel.