ThinkSheet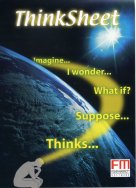 Great to organize thoughts and ideas. Good for writing, brainstorming and revision. A boon for dyslexics.
Features:
Organises thoughts into writing
Requirements: Windows XP, Vista, Windows 7 and above
Easier to use than other organisers! ThinkSheet is simple to learn, powerful and intuitive. ThinkSheet excels at turning your thoughts into writing. ThinkSheet is like a whole lot of 'Post-It' notes you can move around and put in to boxes. The notes are your ideas, your brainstorming. Yet ThinkSheet is smart enough to turn those notes into a piece of writing. You can print, or transfer the results to your word-processor. ThinkSheet is great for revision, for dyslexics, for preparing talks, writing etc. etc. We have a
Demo of ThinkSheet to download
. This is a full copy, which you can use for 6 months before you have to pay. ThinkSheet will take dictation from a speech-to-text program such as IBM's ViaVoice, and will speak using a text-to-speech program such as TextHelp.
New StarSpell Web App, FREE FOR EVERYONE for a limited time
We are providing this online version of StarSpell FREE OF CHARGE for everybody during this difficult period.
---
Network with Site-Licence
Software for network use on unlimited PCs in a single location
CD-ROM
£ 255.00 *
Buy »
*Excludes VAT and P&P
Standalone
Software for use on a single PC
CD-ROM
£ 55.00 *
Buy »
*Excludes VAT and P&P
Additional User
Software for standalone use on a single additional PC
Requires ThinkSheet Standalone
CD-ROM
£ 40.00 *
Buy »
*Excludes VAT
Student
Software for Student use on a single PC
CD-ROM
£ 61.00 *
Buy »
*Excludes P&P
Fisher-Marriott desktop products are standard Windows software that is installed using the Windows Installer in compliance with the Microsoft Windows logo guidelines. Like other compliant Windows software it can be uninstalled from the Windows control panel.