StarSpell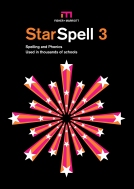 The UK's best-known Spelling Assistant, used by thousands of teachers to help countless pupils learn to spell.
Features:
Suitable for all ages
Graded spelling lists
Printable worksheets
Topic lists - great for exam prep
Look-Say-Cover-Write-Check
Thousands of words, contextual sentences and images
Supports and extends the statutory requirements for English Spelling of the National Curriculum in England 2014, with specific word lists
Phonics section matching the English Letters and Sounds programme
Ideal for individual use and one-on-one work, as well as large screen or interactive whiteboard
Great for dyslexics and SEN
Requirements: Windows XP, Vista, Windows 7 and above
Educationally sound and gimmick-free, StarSpell is created in conjunction with Margaret Hughes, an Educational Consultant and a specialist in the learning of literacy.
Every word is spoken
StarSpell has a comprehensive and progressive approach to spelling. Every word is spoken, and has a sentence in context.
Uncluttered
Easy to use and popular with pupils, StarSpell uses a simple, uncluttered screen to illustrate any corrections before the pupil tries again.
Simple Rewards
Rewards consist of simple animations with a spoken "well done"; StarSpell doesn't pit students against one another.
Great for the interactive whiteboard
The phonics section is especially useful for whole class use with the interactive whiteboard, but also for early spellers following a structured program of phonics development, such as the English "Letters & Sounds" programme.
Curriculum subject lists
Curriculum subject lists, for English, Mathematics, Science, History, Geography and more, are a great resource for more advanced students to use during exam prep.
Adding your own lists is easy. Specially designed games and printed worksheets reinforce learning.
Please see our StarSpell videos
for a more in-depth overview
A fully-functional free trial is available for use in Educational establishments. Please send a request if interested.
Suits Ages 4 to 18, and above
New StarSpell Web App, FREE FOR EVERYONE for a limited time
We are providing this online version of StarSpell FREE OF CHARGE for everybody during this difficult period.
---
Student
Software for Student use on a single PC
Fisher-Marriott desktop products are standard Windows software that is installed using the Windows Installer in compliance with the Microsoft Windows logo guidelines. Like other compliant Windows software it can be uninstalled from the Windows control panel.